In order to help webmasters and developers make more mobile-friendly sites, Google has recently enhanced PageSpeed Insights with more mobile usability recommendations.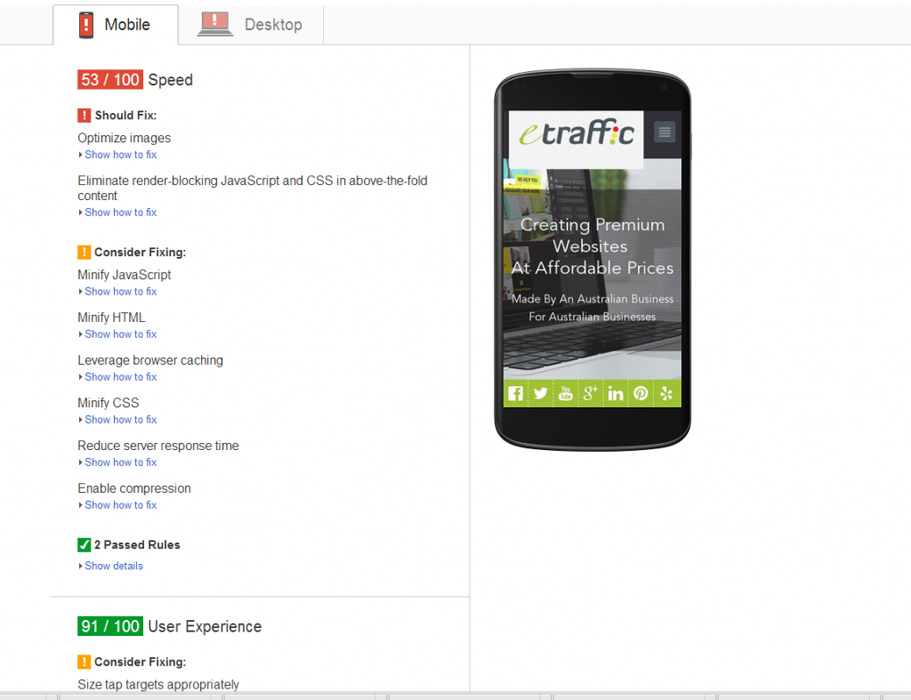 Poor mobile usability can reduce the benefits of a page that loads quickly. The average mobile web pages take over seven seconds to load. If you use PageSpeed Insights and adhere to their recommendations you will be able to make your pages load much more quickly.
However, even if your page loads in less than 3 seconds, rather than 8 seconds, if the usability of the page is poor and users have to spend an inordinate amount of time scrolling and zooming prior to reading its content, then you have defeated the purpose of having a site that loads quickly.
PageSpeed Insights provides a lot of user experience recommendations to help you identify and resolve usability issues, in addition to making your pages load faster.
These usability guidelines include the following:
•
Viewport Configuration
If your page doesn't have a meta-viewport tag many browsers will make the assumption that your page is not designed for mobile, and they will use a desktop viewport as a fallback. In this case they may apply font-boosting that can wreak havoc with your page layout. Consequently the viewport should be configured to width=device-width at the outset.
•
Match content size to the viewport
In most instances mobile sites should not scroll in the horizontal direction, but vertically. After your viewport is configured, ensure that the content of your page fits within the width of the corresponding viewport. You may have to use some responsive techniques, since mobile devices have varying widths.
•
Font Sizes That Are Legible
If visitors to your mobile site have to zoom in order to be able to read your text, then you have a mobile usability issue. PageSpeed Insights will determine if the text on your site is large enough for the majority of users to read with no problems.
•
Right Sized Targets
It is often quite frustrating to users when they attempt to tap a link or button on their screen and accidently hit the wrong button due to their finger pad being much larger than the mouse cursor. Ensure that the touchscreen targets on your mobile site are large enough so that users can activate them easily.
•
Don't Use Plugins
The majority of mobile devices don't support browser plugins or flash, so be sure that the design of your mobile site does not rely on them.
The details of these rules are explained in more depth in Google's help pages.
After you've made some improvements to your site, you can test them with the PageSpeed Insights tool.